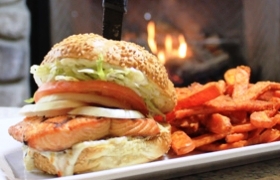 1st Mate's Cajun Halibut Burger
6oz  halibut filet tossed in Cajun spices, grilled & served with tartar and cranberry salsa.  $18.95
6oz charbroiled prime rib patty, topped with cheddar cheese & bacon,
served with  mayo and our special sauce.  $12.95
6oz charbroiled wild salmon filet, served with tartar sauce.  $16.95
An all vegetable patty, grilled & served with pesto mayo.  $9.95
5oz charbroiled chicken breast served with mayo and our special sauce  $12.95
All burgers served on a sesame kaiser bun
with lettuce, tomato and onion.
served with your choice of fries, green salad,
fresh veggies or a cup of daily soup.
substitute caesar salad or coleslaw for $1.50,
substitute sweet potato fries for $2.95